SimpliCT for Cone Beam CT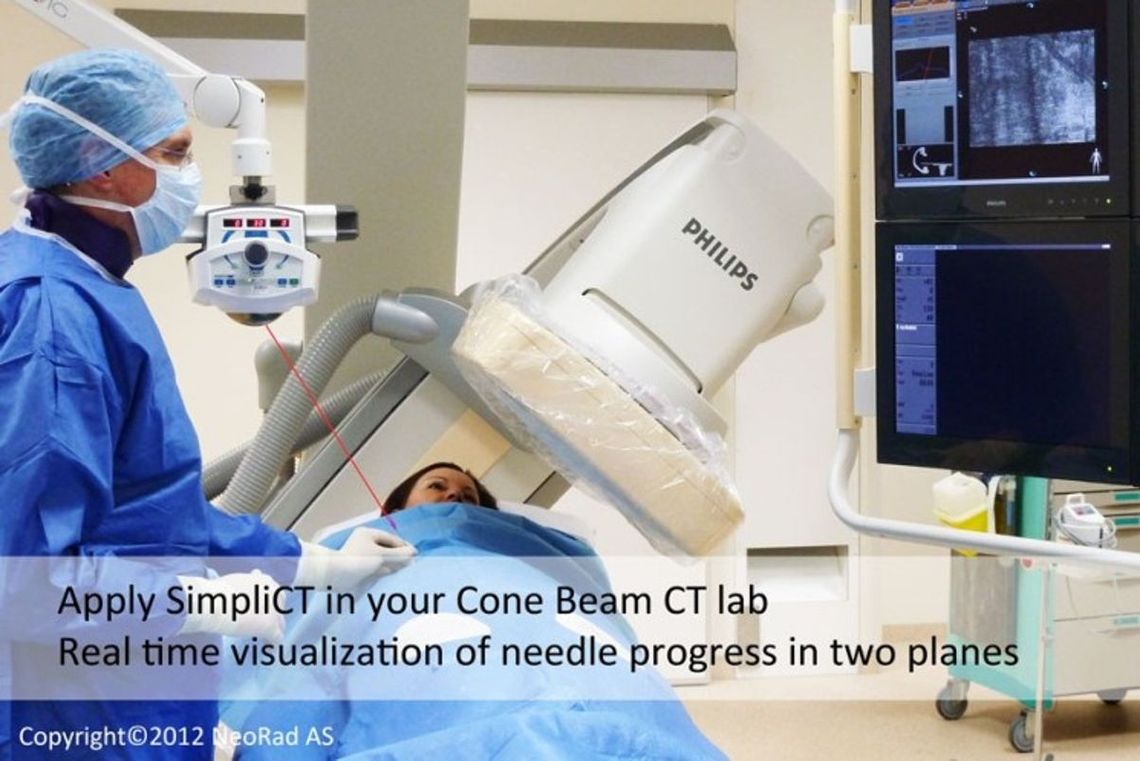 SimpliCT can be applied to visualize the needle path when using Cone Beam CT systems. After making a CT rotation the SimpliCT laser is set with the desired angle of the C-arm Bulls eye view position, and moved to point towards the patient entry point. By keeping the hub of the needle in the laser light, the needle is advanced towards the target. The progress of the needle is monitored with C-arm fluoroscopy in the progress view position.


SimpliCT with the C-arm in progress view thus provides real time bi-plane visualization of the needle, making possible significant radiation dose reductions:


Patient study confirms dose savings without increasing procedure time Laser guidance in combination with needle path planning reduces fluoroscopy time and patient radiation dose in cone-beam CT needle interventions M.Kroes1, S.J.Braak2, M.J van Strijen2, W.Busse1, Y.L. Hoogeveen1, F. de Lange1, L. SchultzeKool1; 1 Radiology, Radboud University Nijmegen, Netherlands;2 Radiology, St. Antonius Hospital, Niuwegein, Netherlands (SIR 2012, abstract No. 68)
Quotation: In our clinical Interventional Radiology practice, the SimpliCT® is now used as needle guidance in all puncture procedures. CIRSE 2011: Pres. No.: P-421 - The effect on operator hand dose of using needle guidance devices during cone-beam CT combined with real-time fluoroscopy-guided puncture procedures M.W. Kroes, W.M.H. Busser, F. de Lange, L.J. Schultze Kool, Y. Hoogeveen, Nijmegen/NL

SimpliCT has been tested and works with GE Innova CT, Toshiba Infinix, Siemens Zeego and Philips Allura systems.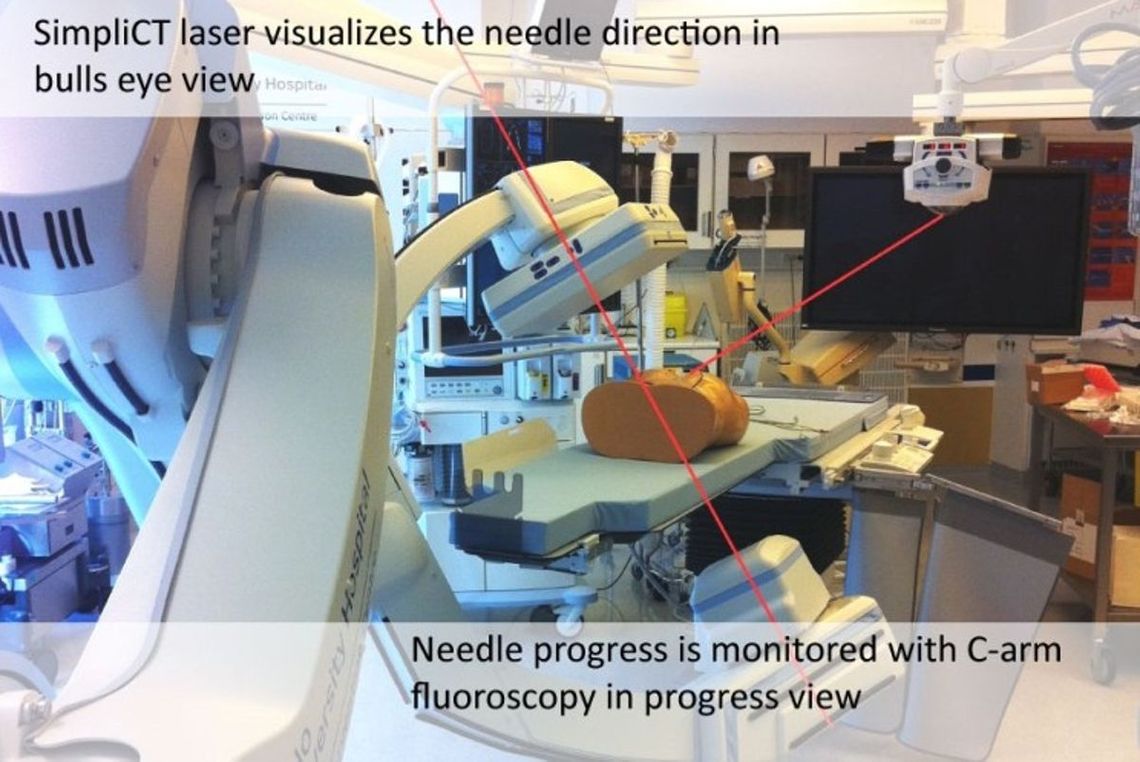 Easy installation on existing MAVIG Portegra2 rails and columns.


Patient study confirms dose savings without increasing procedure time Laser guidance in combination with needle path planning reduces fluoroscopy time and patient radiation dose in cone-beam CT needle interventions M.Kroes1, S.J.Braak2, M.J van Strijen2, W.Busse1, Y.L. Hoogeveen1, F. de Lange1, L. SchultzeKool1; 1 Radiology, Radboud University Nijmegen, Netherlands;2 Radiology, St. Antonius Hospital, Niuwegein, Netherlands (SIR 2012, abstract No. 68)
Quotation: In our clinical Interventional Radiology practice, the SimpliCT® is now used as needle guidance in all puncture procedures. CIRSE 2011: Pres. No.: P-421 - The effect on operator hand dose of using needle guidance devices during cone-beam CT combined with real-time fluoroscopy-guided puncture procedures M.W. Kroes, W.M.H. Busser, F. de Lange, L.J. Schultze Kool, Y. Hoogeveen, Nijmegen/NL